With the Internet of Things (IoT) set to gain increasing mobile subscriber share in the coming years and operators still seeking avenues toward 5G monetization, Q3 2023 saw a bevy of players worldwide generate press releases outlining their nascent efforts with 5G Reduced Capability (RedCap), an effort that could drastically increase the number and type of devices under the 5G umbrella.
The operators running 5G RedCap tests in Q3 2023, including AT&T and Verizon in the US, SK Telecom (South Korea), Optus and Telstra in Australia, Malaysian state-run Digital Nasional Berhad (DNB), and AIS (Thailand), utilized a variety of spectrum in the low- and mid-band ranges, showcasing both frequency division duplexing and time division duplexing implementations.
Moreover, several of the operators (i.e., Verizon, Telstra, DNB, and AIS) tested both 5G Voice over New Radio (VoNR) and data calls using RedCap – or NR-Light. All the tests required 5G standalone (SA) cores.
Timing highlights RedCap opportunity
The timing of this RedCap activity isn't coincidence: Heavyweight network vendors will begin making their 5G RedCap offerings commercial in Q4 2023, just in time for next year's 3GPP Release 18 such as 5G-Advanced specifications to usher in enhanced support for smartwatches and smartglasses.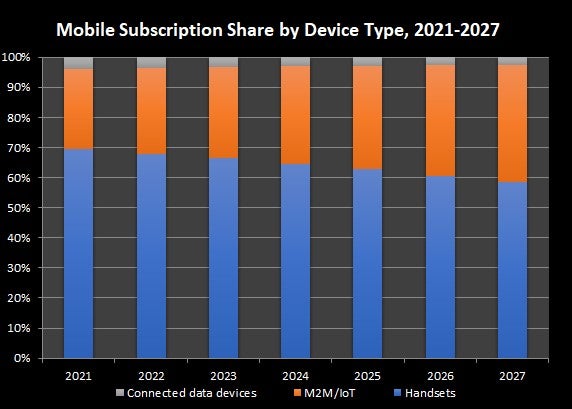 With RedCap, operators look to improve IoT devices' power consumption, reduce chipset cost and complexity, and deliver the service enablers possible with 5G SA.
Furthermore, the 5G RedCap effort also finds operators positioning themselves to capitalize on anticipated shifts in mobile subscription share.
Access the most comprehensive Company Profiles
on the market, powered by GlobalData. Save hours of research. Gain competitive edge.
Company Profile – free
sample
Thank you!
Your download email will arrive shortly
We are confident about the
unique
quality of our Company Profiles. However, we want you to make the most
beneficial
decision for your business, so we offer a free sample that you can download by
submitting the below form
By GlobalData
For example, GlobalData expects M2M/IoT subscription share in the US to increase from 28.3% in 2022 to 38.8% in 2027. At the same time, the research anticipates that handset subscriptions, which soaked up 68% of overall mobile subscription share in 2022, will dwindle to 58.7% by 2027.