Editor's note: TNGlobal's reporter attended the Tuya Innovation Roundtable (Asia Pacific) in Bangkok, Thailand. (sponsored)
---
Siam Cement Group (SCG), the largest cement and construction materials producer in Southeast Asia, is eyeing to tap into China market to promote its Internet of Things (IoT) products and solutions.
"We will spend the last quarter of this year focusing on craft tech. Tuya has big offices in Hangzhou and Shenzhen (China), showcasing their partners from all over the world. So we had asked them to give us some area showcase our craft tech products at Tuya's offices," Apirut Vancha-am, Chief Digital Officer of SCG Digital Office told reporters after the Tuya Innovation Roundtable (Asia Pacific) in Bangkok last month.
The Thailand-based company has launched "mind", a Thai Smart Home Solutions that can link with devices from all brands in August. SCG, which counts King Maha Vajiralongkorn as its largest shareholder, has also been working with Thai designers to develop craft technology products and home solutions which combines Thai creativity and craftsmanship with IoT technology.
"Hopefully by the beginning of next year, we'll have some space to to start showing craft tech. And then at the CES which is held during mid of January, we will share some space with Tuya and we will exhibit our craft tech and see what will be the feedback from the Chinese market and the world. By second quarter of next year, we'll start introducing our product into a very niche Chinese market," he shared, when asked about the timeline to enter the China market.
SCG is not totally new to the China, Apirut said.
"We have offices in China. Most offices is not for smart home products, [but] for building materials. We are already in the market, just that we have yet to introduce this kind of IoT products to the market," he explained.
Revenue in the Internet of Things market is projected to reach $7.1 billion in 2023, according to data platform Statista. Automotive IoT dominates the market with a projected market volume of $2.24 billion in 2023. Revenue is expected to show an annual growth rate (CAGR 2023-2028) of 13.93 percent, resulting in a market volume of $13.63 billion by 2028. In global comparison, most revenue will be generated in the United States ($172.30 billion in 2023).
According to projections, the revenue in the IoT market in China is estimated to reach a staggering $147.20 bilion by 2023. This showcases the immense potential and growth opportunities that lie within this market segment, according to Statista.
SCG's diversification journey into tech
Apirut also shared SCG's journey venturing into tech business. Often seen as a traditional, brick-and-mortar conglomerate, he said SCG started its venture into tech sector five years ago as it crafts for its future.
"I think we are talking about the next 100 years of SCG. Five years ago we took the journey [to venture into tech]," he said.
He said SCG's business has mostly been B2B as the company sells building materials to dealers. "We want to be a more consumer-centric company, to be more B2C so we starting to develop like the online to offline channel," he added.
SCG also want to diversify from merely selling building material, towards a company that look after people's life, the quality of life.
"We want to use innovation and technology as soon as possible. It took us four years to get to this from almost nothing," he said.
Apirut opined that the company is "doing well" in terms of the technology but the challenges lie in how the company can achieve certain scale in order to build a sustainable business. He said the market size in Thailand market is not enough to sustain its smart home solution business in the long term.
Therefore, SCG sees Thailand as its home market. It will try to serve Thai people first and use the market as a sandbox to let the technology matures before exporting regionally, to China and to the West, he added.
Earlier in August, Tuya announced a partnership agreement with SCG. The two companies will also collaborate to explore additional smart business opportunities, such as growing SCG's smart product line, enhancing its IoT services with integrated hardware and software solutions, and advocating for the smart transformation of Thailand's real estate sector.
The two parties also intend to work more closely together in the future to advance the adoption of IoT, AI,and numerous other cutting-edge technologies in the fields of smart lighting, smart community, and smart city, among others.
Tuya Smart sees Thailand's potential
Thailand is chosen as a prioritized market for Tuya, its Vice-President of marketing and strategic cooperation, and Chief Marketing Officer Eva Na said.
"Thailand is a big market that we cannot ignore if we expand into the Southeast Asian region. Thailand was chosen after we take into considerations of its market size, consumers' spending power, among others," she said.
Thailand is Southeast Asia's second-largest economy after Indonesia. Its per capita GDP of 247,828 baht ($7,069) in 2022 ranks fourth in Southeast Asian per capita GDP, after Singapore, Brunei, and Malaysia, according to Macrotrends.
Besides Thailand, Na said Tuya also has customers in Indonesia, Singapore, Malaysia and other countries in the region.
"Our priorities is to make sure we give the best services to all our customers and make sure they do well. Then Tuya will also do well," she emphazized.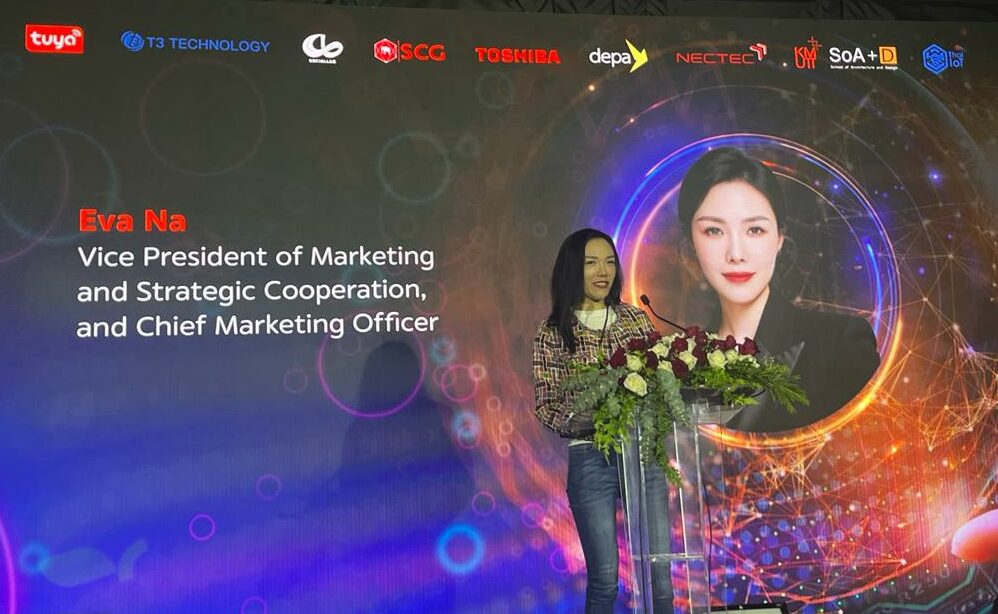 Meanwhile, Thai IoT Association President Niti Mekmok opined that smart factory or industrial IoT will be the star within the IoT sector.
"IoT can can be applied to any sector, but one of the stars will be smart factory which is also known as industrial IoT. IoT is really important for our small and medium enterprises. We have so many manufacturing plants and they need to to improve their production to understand the output, the results in real time," he said.
He said healthcare and education sectors will also be in focus.
"Medical or very high-end like aerospace will also be in focus. But that can be later," he added.
The Tuya Innovation Roundtable (Asia Pacific) on Oct 18 in Bangkok also includes presentations by all three companies, a panel discussion and interview sessions. Media representatives were also given the opportunity to experience "mind" smart home solutions and some other IoT products and services developed by SCG.
Ross Luo, General Manager of Tuya Smart's Asia Pacific Region, T3 Technology Deputy CEO and Founding Member Kevin Guo, Toshiba Thailand chairperson Kobkarn Wattanavrangkul and IoT and tech influencer Chatpawee Trichachawanwong (Cee), Digital Economy Promotion Agency (DEPA) IoT Institute Director Tipawan Tangjitpiboon and King Mongkut's University of Technology Assistant Professor Chanyaporn Bstieler also attended the panel discussion.
Tuya Smart teams up with T3 Technology & SCG to elevate Thailand's smart living ecosystem as part of driving digital economy and creative economy