Freight Farm intelligent farms are fully enclosed shipping containers filled with watering, lighting, fertilizing, and sensors with a Wi-Fi or cellular connection to help new farmers grow crops.
Nov 01, 2023Organizations worldwide have taken up farming in recent years – from schools and hospitals to small first-time farmers – and many are using technology built into shipping containers to create a connected farm that can be accessed and managed remotely. The container method requires a complex network of irrigation, fertilizing, hydroponic lights, and even humidity management, and that's where IoT connectivity becomes essential. Freight Farms, which has offered its intelligent farm containers, recently upgraded its IoT platform to include improvements in lighting controls and management of outlet power, says Freight Farms' CTO Jake Felser.
Farming still requires manual efforts, some agricultural skills, and training. But Freight Farms says its 40-foot farm containers, known as Greenery, make it possible for organizations and individuals with limited crops or plant growing experience to be successful farmers. The containers (in which plants grow from vertical racks) are used to cultivate vegetables, herbs, or flowers with support from sensors and controllers, communicating to the Internet via wired, cellular, or Wi-Fi connection. Freight Farms also offers an app and software platform to guide the farmers on their progress, whether they are onsite or not.
The Boys & Girls Club, Metro South, in Massachusetts, uses the containers to bring agriculture practices and appreciation for fresh foods to students and the local community. The afterschool club set up its first Freight Farms container at its Riverside location in March of 2021, and the second went live at its Brockton clubhouse in January 2022. The two containers were put in operation almost immediately once they arrived, says Derek W. Heim, CEO of the Boys and Girls Club, Metro South. Since these all-enclosed farms were deployed, he says, "we've grown a huge variety of crops." Those harvested crops include about 15 varieties of lettuce, kale, spinach, hot peppers, sweet peas, green beans, broccoli, parsley, and cilantro. In addition, they've grown both edible and decorative flowers, all in the past two school years.

Digital Access to the Farm
The farm allows students to learn the basics of growing crops using physical and digital technologies. This means manually checking the plants, their watering, and lighting onsite; Heim uses an app on his phone to check in on the farms in the evenings and weekends. "We are also in the unique situation of having our two farms at different locations, so the system helps make that much easier," says Heim.
The technology company that provides their local farms has a decade of development and innovation behind it. Initially, Freight Farms' founders had looked extensively at rooftop gardens to solve issues around food accessibility and food deserts, says Felser. However, they found that with a finite amount of rooftop space, there were considerable hurdles to starting farming practices in permanent sites such as building rooftops. Each new permanent site also might require local regulatory approvals for the mixed-use of the building.
"So, we settled on the pathway of building a product which is a part of the shipping container." He says each Greenery, 40-foot, refurbished shipping container can support about 1,000 heads of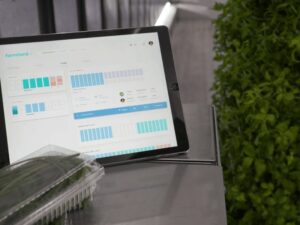 lettuce per week today, and the 11th generation of the farm container is now in use.
The company says inside each container is a controlled environment for vertical hydroponic farming with a holistic and sustainable approach to water use. Just about five gallons of water is required daily and can be recirculated. And the vertical hydroponics paired with IoT-connected systems help farmers stay focused on the indoor controlled environment of plant life, says Felser.
However, the first versions of the farm containers were not connected. They came with a controller that could be manually configured onsite. Those adjustments included using irrigation lines that provide watering and nutrient injection, such as fertilizer. The software helped users onsite calibrate sensors, schedule operations, and view historical data about operations. However, that data was only available onsite.
In 2020, the system became connected, and those who choose to make that connection wireless can access data about what is happening onsite via Wi-Fi or cellular connections.
How it Works
Users buy the Greenery container for about $150,000, and Freight Farms delivers it to their site. To operate the containers, new farmers hook up the water and power connections and Ethernet, cellular, or Wi-Fi connectivity to send IoT data, receive alerts, view dashboards, and gain analytics.
Those farmers can then attend "farm camp," a Freight Farms course to guide users through the basics of farming with the containers. Container owners can also use the cloud-based software to manage the site and gain support from others in the farming community and Freight Farms' technicians, with a yearly subscription.
Users download the Farmhand app on an IOS and Android device to access data remotely or onsite. Farmhand software is also available online and in a local version, which users would access only inside the farm on a touchscreen or connected computer device. For each crop, a recipe can be stored and sent to the controller – for watering, fertilizer, and light- for that crop's optimal environment. From that point, the app and software track the irrigation, lighting, and conditions (the latter is provided by sensors inside the container, including a thermostat).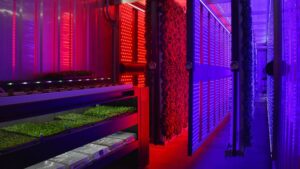 The container has an onboard device that computes data and sends relevant information to the server, where users can view the conditions and what has taken place on the farm in real-time and historically. The IoT connectivity also enables users to receive a text if the farm operation falls outside of pre-set parameters (such as a dropping pH level measurement). This can be critical for farmers away from the site, such as during the weekend.
If a user has more than one farm, they can develop recipes in one container that are then forwarded to control the parameters at the user's other sites that might be growing the same crops.
The Farmhand software also tracks equipment operation onsite and can make recommendations based on data, such as the need for calibration of the hydroponic equipment. "If you're a sophisticated hydroponic grower, [calibration schedules] might be something you're used to, but it's time-consuming, and we've automated a lot of that," Felser says.
The cloud-based Farmhand software also provides a library of recipes consisting of nutrient blends and mixtures, watering cycles, and lighting according to the recipe. Users can adjust based on the growth rates of their crops. Lighting, for instance, can be adjusted according to brightness and color tone based on a combination of peak photosynthetic efficiency, energy efficiency, and optimal growth.
The combination of technology and farming know-how makes it possible for small community growing sites to succeed, says Felser. "We're a technology provider, but they won't buy more farms if they aren't successful."
The containers are also designed to be energy efficient, and tracking the data remotely helps users ensure that they are expanding the correct number of resources. The container is in a closed environment, and the HVAC system – which dehumidifies the air – is routing the condensation back into the plants' watering tanks. In fact, in highly humid environments, the results can be what the company calls "water positive," in which more water is gained than used, so dehumidified water needs to be removed.
The containers also include cameras, which require a wired connection to feed the video content to the server. Still, that functionality could be accomplished through Wi-Fi or via a 4G or 5G SIM card.  Most of Freight Farms' customers use their own on-site Wi-Fi to collect the container's data, while about 25 percent of users are leveraging cellular connections due to a remote location or other lack of Wi-Fi access. The sensors are wired to an edge device onsite that communicates over an MQTT protocol to the controller.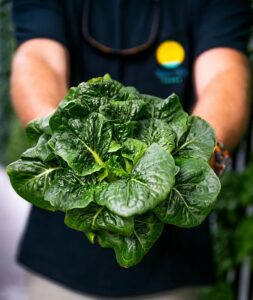 Currently, the company has deployed almost 600 farms worldwide. Small businesses are deploying the containers to serve farmers' markets. Some communities also are deploying, typically one to three containers, generally filling a niche in the food supply.
Freight Farms is now developing the latest version of its controller with improvements that include a dynamic dimming capability that wasn't available in the past.
The software system has been improving since the system was deployed at the Boys and Girls Club sites in Massachusetts, says Heim. "We've seen significant jumps in its overall performance and capabilities just when we've been operating our farms." He adds, "Assuming everything is operating as expected, it's straightforward to churn out large quantities of beautiful produce."
Another user, King Tide Farms in South Carolina, has been using the containers since February of 2022 and selling lettuce, mustards, flowers, and other crops since June of the same year. The farm uses the IoT data daily, says farm owner Hamilton Horne. "I'm not the most technical savvy farmer, but it offers great insight … to help when there is a problem," Horne adds that he expects a return on his initial investment within two to two-and-a-half years.
Key Takeaways:
A Massachusetts Boys and Girls Club is among users of an IoT-based intelligent farming system, provided in a box with Wi-Fi or cellular-based connectivity.
Freight Farms is upgrading its container farms to include improved lighting performance according to crop requirements.