Investment Thesis
BlackBerry Limited (NYSE:BB) has for a long time been a battleground stock, with passionate bulls and bears both arguing for their side. And for a long while, it succeeded in plowing through.
But I believe that in the past few weeks, we've seen two events put in place that signal the beginning of the end for the bull thesis.
I recommend that investors call a day on this investment and salvage their capital.
Quick Recap
In my previous analysis, I said,
BlackBerry is a turnaround that is consistently in the process of turning around. And yet it seldom turns. BlackBerry has sold its highly prized patents in an effort to shore up its balance sheet with ample cash.

However, I continue to express caution that this investment is not worthwhile to deploy more capital into.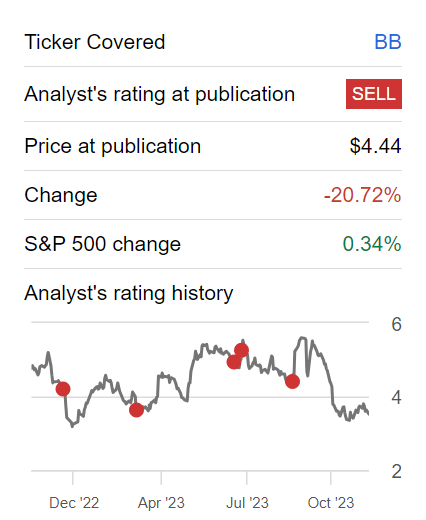 To be fully transparent, I've been bearish on BlackBerry for a considerable amount of time, and it took a long while to be proven right. In investing, you not only need to be right on the idea, but you also have to be right in a timely manner.
And to be clear, my timing was indeed off. But I believe that now, things are starting to unfold, that will lend credence to my bearish thesis.
Near-Term Prospects
BlackBerry's CEO is leaving the company. Whatever one can say about CEO John Chen, the fact of the matter is that he held this company together.
I recognize that Chen is a highly contentious figure, but when the new CEO takes hold of BlackBerry, I can't imagine she'll be a match for Chen. Chen had a way to bring his vision for BlackBerry alive. And I suspect that working alongside Chen would have been highly motivating for his team. When the new CEO steps him, she will have her work cut out to live up to Chen's vision.
Revenue Growth Rates Are Too Unpredictable

BlackBerry notes that its revenue growth rates should improve in fiscal H2 2024. But the reason for that is simply because its revenue growth rates in the prior year period were meaningfully negative, particularly fiscal Q4 2023.
This business wants to put forward a vision of a secular growth story with strong prospects, but this is not what's at play here. Instead, this is a business that is slowly shrinking and doing everything it can to survive. And I charge that time is running out for BlackBerry.
Perilous Balance Sheet, A Noose
Yesterday BlackBerry announced that it has paid off $365 million worth of debentures but it still holds $150 million worth of convertible notes. In practice, this now means that Blackberry has a $100 million net debt position.
Recall, that the whole reason why BlackBerry had previously been able to hold its market valuation had been because BlackBerry had a net cash balance sheet.
Now that this convertible debt is out of the money, with a conversion price of $6 per share, compared with BlackBerry's current share price of around $3.50, the debt holders will want to be made whole.
Accordingly, both companies have agreed to give BlackBerry until May 2024 to figure out how BlackBerry will come up with the $150 million to make the debt holders whole.
The timing here is important. Why? Because BlackBerry is hoping to list its IoT business in a separate IPO. To jump on the AI and IoT hype that is percolating through the market at the moment and hope to fetch a very high valuation for this alluring business.
This will leave behind BlackBerry's flailing cybersecurity business shackled with debt. Put another way, BlackBerry will sell its crown jewel to service the debt on its balance sheet, in an effort to survive a worse outcome.
The Bottom Line
In conclusion, my bearish stance on BlackBerry's prospects remains steadfast. The departure of CEO John Chen, a stabilizing force for the company, introduces an element of uncertainty as the new leadership may struggle to maintain Chen's vision.
BlackBerry's optimistic projections for improved revenue growth rates in fiscal H2 2024 seem tenuous, given the recent history of negative growth, indicating a slow decline rather than a robust turnaround.
The company's decision to pay off some debentures but still hold $150 million in convertible notes reveals a perilous balance sheet, as BlackBerry goes from a net cash position to a net debt position.
The upcoming deadline to address this debt issue coincides with BlackBerry's plan to list its IoT business in a separate IPO, a move that could potentially sacrifice its crown jewel to alleviate financial pressures.
The intricate dance with debt, coupled with unpredictable revenue growth, paints a precarious picture for BlackBerry's future, reinforcing my skepticism about the viability of this investment.